SPONSOR & CO-HOST A FOOTBALL TAILGATE THIS YEAR!
Get ready to light up your Fridays with excitement because it's football season again! And what better way to celebrate than by joining forces with Elevate Indianapolis for an incredible opportunity. We are thrilled to announce that we have a fantastic series of Football Tailgates lined up, and we're inviting you to be a part of the action!
Save the Dates: September 8, 22, and 29
Locations: Shortridge, Arsenal Tech, Purdue Poly, George Washington High Schools
By becoming a sponsor for these tailgates, your company will have the chance to make a tangible difference in the lives of these students and gain exceptional exposure among a diverse audience. This is an incredible opportunity to showcase your commitment to social responsibility and contribute to our local communities' growth and vitality.
If you're interested in co-hosting and sponsoring any of these unforgettable events or would like more information, please contact Jackson, our Community Engagement Manager. Let's create lasting memories and make a lasting impact, together!
SAVE THE DATE FOR OUR 7TH ANNUAL VISION BREAKFAST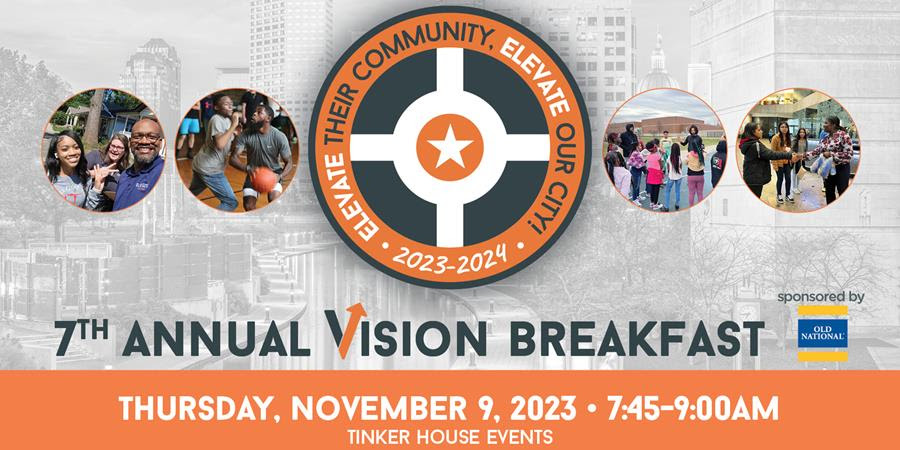 Please Save the Date for our 7th Annual Vision Breakfast, sponsored by Old National and held at Tinker House Events on Thursday, November 9, 2023.
Connect with our remarkable students and alumni over breakfast, coffee, and inspiring conversations.
Learn more about this year's theme "Elevate Their Community. Elevate Our City!"
Discover updated program insights and our visionary path for the future.
COMMUNITY ENGAGEMENT CALENDAR 
In case you missed it, we released our Community Engagement Calendar earlier this week – filled with dates for upcoming 2023-2024 events. All events are opportunities for individuals, businesses and partner organizations to get involved by volunteering, sponsoring and attending.
If you're interested in volunteering and not sure where to start, or if your company is looking to get involved, fill out the corresponding form below, and we'll be in touch!